Mirrors are a very versatile and innately appealing design element that brings significant value to any living area, regardless of its size or shape. Mirrors have a dual purpose of form and function, but they can also transcend into works of art.
They are remarkably adept at manipulating light, which allows them to accentuate the light in a space and produce a bright, welcoming ambiance. Mirrors are special because of their potential to change how an area is seen.
A mirror can be a transformative element that redefines and elevates the aesthetic appeal of your living space. It can elongate a room that feels too short, give the impression of spaciousness in a small area, or artfully disguise architectural imperfections.
1. Get a Panoramic View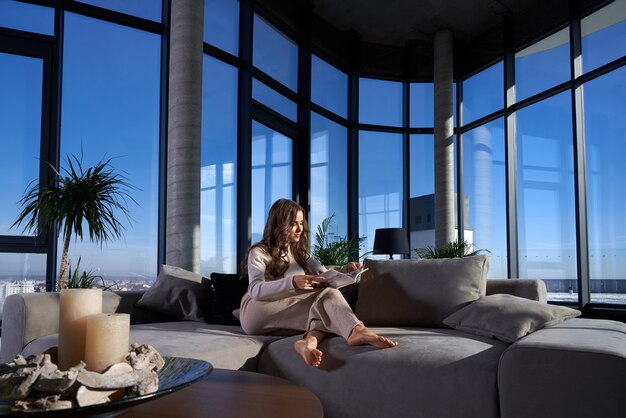 Consider hanging a convex wall mirror on an open wall to provide an expansive and panoramic perspective of your living area. This specific design decision provides you with an eye-catching view of the entire space in addition to acting as a visually arresting focal point on its own.
We especially like the dotted metallic-finish variety; it's very charming. Its distinctive texture and pattern create a natural synergy that gives the room depth and character while blending in perfectly with all the blue and navy hues present. The end product is a living space that skillfully blends aesthetic appeal with practicality, providing a compelling and expansive view that adds to the room's overall charm.
2. Think Big
Adding a large mirror with significant coverage to an entryway or corridor that connects seamlessly to your living room can be a great way to improve both style and practicality. Imagine a mirror that fills virtually the entire wall; not only is it a stunning piece of art, but it also serves a very useful purpose.
In addition to creating a dramatic statement, this large mirror deftly extends the visual borders of your living space by giving the impression of additional room. The effect is an engaging and smooth transition between these linked areas. Your living room will feel more spacious and welcoming thanks to the mirror's vast span, which also improves the area's overall appearance.
3. Learn a Mirror Against Your Wall
A large leaning floor mirror can be just as attractive and useful as an expansive mirror mounted on the wall in cases where that option is not practical. A mirror like this one here takes up about half of the wall and instantly gives the living area a glamorous feel. It also works wonderfully in reflecting the natural light that streams through the nearby window, enhancing the amount of light in the space.
This gives the impression of a brighter room without requiring complicated mounting techniques, and it also gives the impression of a larger living area. A great design element that adds to the room's overall appeal and spaciousness is this floor mirror, which leans inward, proving that elegance and functionality may cohabit peacefully on occasion.
4. Layer a Mirror on a Mantel
If you feel that leaning floor mirrors are too large for your room, you might want to include a circular mirror in your design scheme, placed behind an eye-catching print. When combined with a variety of sculptures and ceramics on your fireplace mantel, this arrangement creates a lovely scene. This fills the space with texture and contrast in addition to adding more levels of visual intrigue.
As a consequence, the living room has a very cozy feeling, and the harmonic blending of various pieces creates a pleasing visual appeal. This well-thought-out arrangement creates a pleasant retreat in your living area that invites you to investigate its fascinating nuances. It does this by striking a balance between art and design.
5. Finish Off a Bar
Speaking of circular mirrors, have a look at this living room that cleverly uses a round mirror to mark off a space for the bar. This architectural decision, when combined with a glossed ceiling overhead, brings in an abundance of ambient light that dances around the room in a delicate and elegant manner.
Besides adding a sophisticated touch to the bar area, the round mirror also makes the room seem more light-filled overall. The outcome is a living space that radiates luxury and serenity, where the glossy ceiling and mirror create a calm, well-lit sanctuary perfect for relaxing and mingling.
6. Fit Something Horizontal
The creative use of mirrors in interior design is a very adaptable element that can be used to transform both large and small living spaces. The thoughtful placement of a large mirror in a horizontal position can make all the difference in a small living space. This easy-to-use but efficient method pushes the boundaries of your room with ease and gives off an instant feeling of expansiveness.
It's amazing that this concept works wonders not only for smaller spaces but also for larger ones that could be feeling a little boring or lifeless. Adding a horizontal mirror is a great way to visually enlarge a space while adding a surprising aspect. This works well for any size room that needs to be revitalized.
7. Add Nature-Inspired Mirrors
Adding mirrors with natural material frames is a great way to give otherwise bland interiors some life and personality. Consider this circular mirror, which is the finishing touch—inspired by boho design—for the tiny bar area that has been carefully carved out inside this living area.
The area's aesthetic appeal is enhanced by the use of a mirror framed in natural materials, which lends an air of organic warmth and earthy charm. Its distinct texture and design give off a bohemian vibe, perfectly coordinating with the entire color palette.
In this case, the mirror adds to the eclectic, cozy atmosphere of the room in addition to enhancing the visual appeal of the little bar area. It's a great illustration of how a well-chosen mirror can alter a room and make a statement in interior design, giving your living area more character and individuality.
8. Go Beyond One Mirror
Don't restrict your mirror selections to the conventional rectangle, circle, or oval shapes. There is a vast array of imaginative opportunities just waiting to be discovered. Take a look at an unconventional mirror idea, such as this one: tiny, hexagon-shaped mirrors that are skillfully placed in a seamless jigsaw, with a few placed deliberately apart to create the appearance of motion.
This creative take on mirror design provides a welcome change from the norm as well as an eye-catching focus point for your living area. The hexagonal design transforms your wall into a standalone piece of art by bringing mystery and aesthetic energy to the space.
Mirrors can be both extraordinary and useful pieces of decor, as demonstrated by this unusual design that not only expresses your particular taste but also gives your living area a new level of visual interest and complexity.