Our experience over the past year has shown us how crucial it is to establish a haven in our houses. This is especially important in our bedrooms, where we spend a significant amount of our time trying to unwind and find some peace of mind. A pleasant shift in interior decor is being brought about by the return of romantic aesthetics, which gracefully eschew the frills and antiquated furniture of bygone eras.
The key to creating a modern romantic bedroom setting is to create an atmosphere that is not only visually appealing but also elicits a strong feeling of coziness, welcome, and peace. While pictures of lavish rooms with heavy draperies and metallic embellishments are frequently associated with romantic design, modern decorators have cleverly blended light, and airy elements into this style to create a beautiful fusion of old-world charm and contemporary refinement.
There is an infinite variety of romantic bedroom designs to choose from, which provides plenty of ideas for designing a sleek, contemporary retreat of your own. You may create a romantic bedroom that is a monument to the union of traditional charm and modern sophistication by piecing together components that speak to your particular taste. This is a place where you can unwind and rejuvenate in comfort and style.
1. Add Soft Textures
A lived-in look that makes you want to crawl back into your bed is created by bedding with soft, natural textures. It's an aesthetic that goes beyond just visual appeal and has a tactile appeal that improves the whole comfort of your bedroom. Cotton and linen textiles come into their own when a summer breeze blows through your bedroom, providing breathability and a breezy vibe.
In contrast, heavier knits—like the material used for these throw pillows—come into their own as the colder months bite, providing a layer of toasty comfort to your bedroom's design while also enveloping you in warmth. The selection of bedding textures is about much more than just style; it's about comfort and seasonality as well, so your bedroom will always be a cozy retreat.
2. Set the Mood with Lighting
Soft, delicate lighting plays a crucial part in creating a romantic environment in a tiny bedroom. Lighting is a transformational factor that has the capacity to change the ambiance of a place. The soft lighting that comes from lamps or wall sconces by the bed adds an intriguing, almost ethereal element to the room.
It replaces the harshness of conventional ceiling fittings with a gentle, calming brilliance that gives the space a soft, romantic glow. Romance is a vital component of bedroom décor because the play of light and shadow in this setting creates a peaceful and welcoming ambiance that is conducive to romance.
3. Add Fresh Florals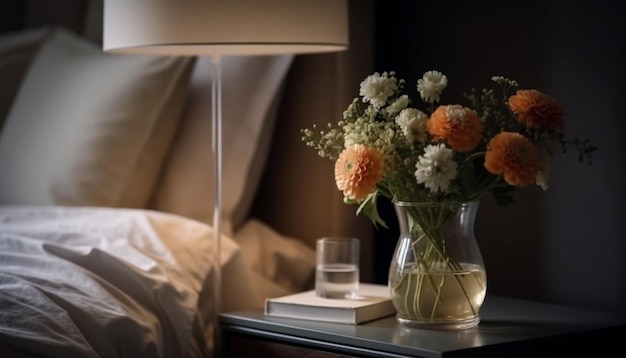 There's not much that compares to the innate romance of a gorgeous bouquet of fresh flowers. Their captivating scent complements their amazing appearance, energizing even the most lifeless nightstands while pleasing the senses. Flowers' delicate petals and vivid hues have the amazing power to bring life and charm into the bedroom, instantly enhancing its allure.
Flowers, whether a single bloom or a beautifully organized arrangement, are a classic gesture that conveys thoughtfulness and affection. As such, they are an all-time romantic favorite and a striking accent to any bedroom design.
4. Get Drapey
Bold curtains are a feature that can give any space a sense of height and seclusion. Drapes are a great way to add an eye-catching flash of color or pattern, especially when working with a neutral color scheme. This splash of color can work as a center point, giving the area more life and personality. As an alternative, people who want a hint of extravagance and luxury can go for opulent materials like velvet.
Velvet curtains give off a sense of wealth and refinement that envelops the space in beauty and sensual appeal. Choosing draperies, whether it's a pop of color or the plushness of velvet, is a flexible way to improve the way your space looks and feels while making sure privacy and height are tastefully included in the design as a whole.
5. Make it Modern
It all starts with the furniture you choose. Modern and romantic design is all about choosing items with simple, clean lines and detailing. This method retains a romantic charm while bringing forth a feeling of refinement and simplicity that flawlessly matches the current design.
If your bedroom is generally simple, you might add some grandeur by carefully placing gold accents throughout. A touch of glitz is added by features like sophisticated gold lighting and glittering gold furniture knobs, which combine modern elegance and a romantic atmosphere to create a polished and seductive place.
6. Keep it Clean and Simple
The phrase "less is more" might sometimes be accurate when trying to create a calm and romantic bedroom. Calm can be achieved by using a neutral color scheme and simplifying your décor. Adopting a monochromatic scheme consisting of soft whites, creamy tones, and calming beiges helps you minimize visual distractions and create the perfect environment for relaxing.
This minimalistic style encourages space and tranquility, enabling your mind to clear and your spirit to find comfort in the quiet beauty of subtle elegance. A canvas of simplicity is created by the subtlety of neutral colors, which allows the art of romance and leisure to flow naturally.
7. Create Contrast
Incorporating contrast-playing items into your bedroom décor, like matching light-colored bedding with a bold, black headboard, can provide a touch of romantic drama. This striking contrast creates a visually arresting focal point for the space and provides a useful framework for tying the topic together.
By contrasting these components, you give your room depth and personality while generating a dynamic interplay that entices the eye. This design decision makes it possible to add accent colors to blankets and toss pillows, resulting in a unified and harmonious theme that skillfully connects all the components of your romantic bedroom.
8. Try a Classic Style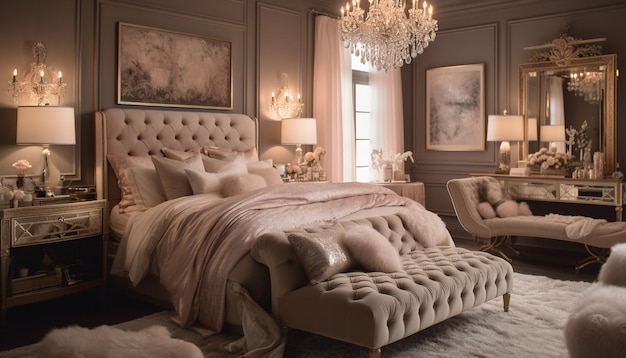 Consider the grace of a canopy bed for an opulent and regal touch in your bedroom. The appeal of this option is that there's no need to look for one with voluminous drapes or ruffled curtains because there are plenty of sleek, contemporary models available. These modern canopy beds have a chic and elegant design that avoids giving the impression of an old-fashioned fairytale setting—unless, of course, that's the exact magical mood you're going for.
These contemporary reinterpretations of canopy beds exude a timeless appeal and mix in perfectly with a wide range of design types, making them a magnificent and adaptable addition to any bedroom looking to exude grandeur and refinement.
9. Incorporate Bohemian Decor
Creating a bedroom that truly reflects both of your personalities and blending styles is crucial when you and your partner share a space. The essence of compromise emerges from this harmonic union, and there's a certain romantic beauty in that cooperation.
It can be a fun experience to incorporate this into your bedroom design if you have a bohemian flair. Adding bohemian-inspired accents gives the space a carefree, bohemian look. Examples of these pieces are vintage-style carpets and pillows made of mud cloth.
To further enhance the space's character, adding organic and grounded elements to the decor, such as wood and dried flowers, can further enhance its natural textures. Combining styles to create a bedroom that truly reflects your shared love story is an art form that goes beyond simple compromise to celebrate your special union.