It is feasible to create a beautiful shower in a bathroom that is even smaller than average. Despite the fact that it could take some ingenuity, there are beautiful little shower designs that fulfill their purpose and have a refined appearance.
Are you worried that not enough room will prevent you from trying out different finishes and patterns? Set such anxieties aside. The ability to create a little shower in whatever way you like is what makes it so beautiful.
The options are unlimited, depending on your preference for bold patterns and colors—a vibrant tile or stone can provide vibrancy—or a more subdued, neutral color scheme. Within the constraints of a small bathroom, you can add modern features like glass shower doors and sleek black hardware, even if your taste is more current.
These pictures will offer a plethora of ideas and insights to anyone starting the process of constructing a new bathroom and looking for inspiration for layout and décor.
1. Terrific Terrazzo
Why not think about adding terrazzo to your bathroom? Resurgent in popularity right now, this fashionable material can breathe new life into even the smallest of bathrooms. It's certainly worth the effort to add your distinct style and personality to the shower, as it's a room that's utilized a lot.
With its alluring combination of colors and patterns, terrazzo not only gives the shower a touch of elegance but also lets you show off your unique sense of style, transforming this functional area into a visually striking and uniquely yours. It's a design decision that adds luxury to your everyday routine and improves the showering experience.
2. Super Shelf
Here's a creative solution to think about when it comes to bath product storage in the event of a very small shower. This arrangement, which features a handy built-in shelf that can hold all of your shower necessities, should serve as inspiration.
This clever addition makes the most of the available space and provides an opportunity for the installation of lovely decorative touches, giving your little shower a useful and visually pleasing appearance. Even in the smallest of areas, your bathing area will stay neat and appealing thanks to this clever and fashionable solution.
3. Winning Built-In
For those in the process of designing a small shower space from the ground up, incorporating a built-in shelf is a thoughtful option to ensure your shower area remains both efficient and stylish. A small nook, like the one depicted here, is perfectly sized for accommodating a few essential items such as shampoo bottles and other basic toiletries.
This design feature not only keeps your shower products within easy reach but also adds a level of practicality and organization to your shower space. It's a clever and space-saving solution that ensures you make the most of your small shower without sacrificing convenience.
4. Handsome Herringbone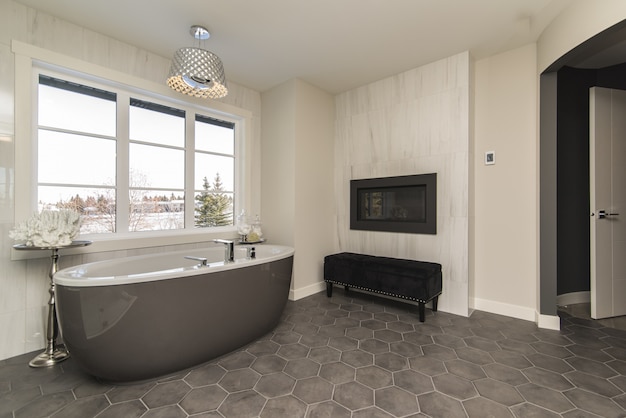 One remarkable design that highlights the creative potential of tile is a herringbone pattern that runs the full length of a bathroom wall and flows effortlessly into the shower. Decorating a small bathroom shouldn't be about being afraid to use tile creatively. Actually, tiles have the power to completely change a room by adding flair, individuality, and a hint of luxury.
Tiles have the ability to have a big impact in a small bathroom, whether it's the sophisticated geometry of a herringbone pattern or any other design that catches your eye. They provide an adaptable canvas on which you may showcase your individual style and design a visually striking and customized bathroom.
5. Multipurpose Space
Imagine a place that effortlessly combines the best features of both worlds—a laundry room and a bathroom. This multipurpose wonder acts as a comprehensive center for all of your everyday requirements. In this adaptable area, a shower with a built-in shelf takes center stage as both a functional requirement and a stylish design feature that emanates modern elegance.
6. Feeling Artsy
A shower that is tastefully tucked into a corner is a beautiful example of space-efficient design. However, the creativity doesn't end there. Is there any way to improve the showering experience by taking in a little artwork as you rinse off? Even the smallest bathrooms have a touch of refinement and interest when a gallery wall is added and placed so that it can be seen from inside the shower.
This innovative method not only makes the most of the space's visual appeal but also turns taking a shower into an original and creative experience where there are always creative inspirations to be found. It's a creative and eye-catching method to maximize every square inch of your bathroom.
7. Vintage Vibes
This incredibly adorable bathroom will captivate you if you enjoy retro-inspired interior design. It has a classic clawfoot tub that makes you feel nostalgic and takes you back to a simpler period. This design is beautiful because, although it has an air of old charm, it is also incredibly functional—it doubles as a shower, albeit in a smaller size.
This charming fusion of contemporary conveniences and classic elegance is proof of the timeless attraction of historic design, providing a chic and comfortable haven for rest and renewal. It is a classic and warm area that invites you to relax and enjoy the charm of bygone eras.
8. Nice and Neutral
Since there isn't much room between the sink, toilet, and shower in this small bathroom, every square inch is used to its full potential. As this lovely example shows, selecting neutral paint colors and accessories is essential to giving the impression of a larger, airier room.
In addition to creating a feeling of visual expansiveness, this design approach makes the little bathroom feel more airy and inviting. It serves as evidence of how carefully selecting colors and accent pieces may optimize a small space, improve practicality, and guarantee comfort throughout your home.
9. Small Yet Stylish
Accept the skill of romanticizing the commonplace. There are lots of ways to add elegance and sophistication, even in the tiny shower footprint. The atmosphere can be greatly enhanced by adding candles, stylish bath items, and maybe even a small plant.
When you can create an equally luxurious and soothing experience from the comfort of your own home, who needs an ostentatious spa? You may turn your everyday shower into an opulent getaway by paying attention to the little things and adding aspects that appeal to your senses, which will elevate the ordinary to the remarkable.
It serves as a gentle reminder that you may include self-care and style into your everyday routine to improve your comfort and general well-being.
10. Cool Curves
Once more, a curved shower steals the show in this bathroom, demonstrating the effectiveness of imaginative design in maximizing small areas. Finding creative ways to arrange things is essential to optimizing small spaces.
Here, the curved shower not only provides a touch of beauty but also makes the best use of available space, combining form and function in a seamless manner. It's evidence that utility and beauty can coexist in small spaces even with creative design ideas that turn a small bathroom into a chic and quite useful refuge.