The mid-century modern style, which spanned multiple decades, has a massive influence on a wide range of forms, hues, and textures. This period's eclectic impact also permeates bathrooms that are inspired by it, producing a range of unique interiors that frequently defy simple historical interpretation.
While basic elements, like wooden vanities and vivid paint or tile, are shared by all bathrooms, you'll note that some may stick to the retro pastel colors of the 1950s, while others take inspiration from the wacky and bohemian textures that became popular in the late 1960s and early 1970s.
What's so amazing about the mid-century modern aesthetic is its adaptability. Your bathroom deserves a little bit of mid-century modern beauty, even if your living room, kitchen, and bedroom are already furnished with lucite chairs, terrazzo floors, oak buffets, and hairpin-legged tables.
For those of you who are die-hard followers of the rapidly expanding mid-century modern fan club, check out these gorgeous bathroom designs. They'll motivate you to bring your love of this look into every room of your house.
1. Embrace Wood Paneling
A design element that frequently elicits conflicting feelings is wood paneling. While some associate it with failed design attempts in the past, others find that, when done right, it can bring intrigue to any bathroom. Wood paneling in modern interior design can have a completely new meaning when used carefully.
Think of lining the walls of your bathroom or framing your shower with wood paneling; it can instantly transport you to a mid-century modern setting. When used expertly, this adaptable material may give your bathroom warmth, texture, and a distinct nostalgic appeal, demonstrating that even elements with contentious histories can be given new life and appreciation in the context of modern design.
2. Focus on Lighting
It is amazing how lighting can bring a bit of mid-century modern style into a bathroom. This sample's oblong wall-mounted lights, which go well with the faucets, mirror frame, and sharp black hardware, are a perfect illustration of sleek and stylish design.
When deciding where to spend your money on a bathroom makeover, lighting is an obvious, effective, and adaptable option. It is a wise and worthwhile investment for changing the ambiance and aesthetics of your bathroom because it not only sets the tone for the entire area but also has the power to significantly improve its style.
3. Don't Be Shy to Experiment With Color
The mid-century modern era saw the emergence of a wide spectrum of cheerful and energetic hues, including olive green, pink, teal, and the vivacious shade of orange. If you're drawn to a certain color—such as the lively and carefree bubblegum pink seen here—but you're not sure whether to use it in other rooms, you might choose to use it to decorate the walls of your bathroom.
By using this method, you may add a touch of vibrancy and individuality to the room while still being loyal to your own style. Adopting these vibrant and unusual colors can give your bathroom a distinct and revitalizing vibe that captures the free-spirited attitude to the design of the mid-century modern era.
4. Experiment With Shapes and Sizes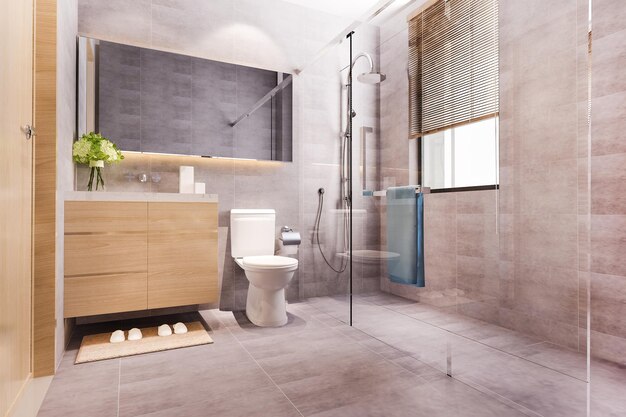 A fashionable and harmonious contrast to the angular aspects of the vanity and floor tiles is the carefully chosen use of varied circular shapes, replicated in everything from the exquisite mirror to the attractive cabinet pulls.
This meticulous attention to detail is in line with the aesthetic of mid-century modern design, which is frequently defined by well-balanced contrasts. The bathroom is made even more timeless by the use of neutral colors, which guarantees that it will continue to be a classy and timeless area for many years to come.
5. Work Color Into Your Flooring
If you're a fan of mid-century modern colors but might be a little afraid to cover a complete bathroom in them, starting with the flooring can be a smart move. An excellent case can be made for the usage of pink tiles in this bathroom room.
If a complete floor makeover isn't possible, there are other ways to accomplish the same look, such as using stick-on backsplashes or building a tile accent wall. Even though you're not ready to totally commit to mid-century modern style throughout your entire bathroom, these selections offer a lovely and transformational touch of color.
6. Try Pairing Coastal Touches
The use of mustard yellow vanity and Kelly green tiles in this bathroom gives the otherwise subdued mid-century modern design a fun and modern touch. This room's seamless integration of design elements—which goes one step further by adding nautical accents—is what really intrigues me about it.
Wood paneling, wall-mounted faucets, and gold sphere lighting add a somewhat beachy feel to the scene, but they also happen to blend in with the overall design rather well. It is proof of the adaptability and flexibility of design elements when skillfully paired, creating a room that skillfully blends different design inspirations into a singular and harmonious whole.
7. Cover Your Walls With Pops of Color
The everlasting appeal of mid-century modern style and the elegance of Art Deco are harmoniously combined in this intriguing room. This powder room is truly eye-catching due to the dramatic juxtaposition of the spherical lights and cylindrical mirror, with the beautifully patterned tiles and aggressively colored walls.
Anyone might be motivated to pick up paintbrushes and start their own artistic adventure by this design, which is so captivating. Jewel-toned green is a very adaptable color that works well with many different styles and gives the room a happy, exciting vibe. This bathroom is anything but typical; it radiates vibrant energy and shows that daring design decisions may produce engaging and exciting outcomes.
8. Get Groovy With Patterns
This bathroom definitely deserves a spot in a lineup of bathrooms with mid-century modern influences, even though it might not follow the standard mid-century modern design. The bright and wild patterns combined with the dark wood vanity harken back to the hippie prints and patterns that typified the 1960s and 1970s.
You can't help but think of those earlier times when bold and unusual design choices were the norm as you look around this unique environment. It's a call to action to think about adding some eye-catching and fashionable wallpaper of your own, giving your bathroom a dash of uniqueness and vintage charm while still honoring the timeless appeal of mid-century modern design.